Protecting Yourself Against Contingent Liability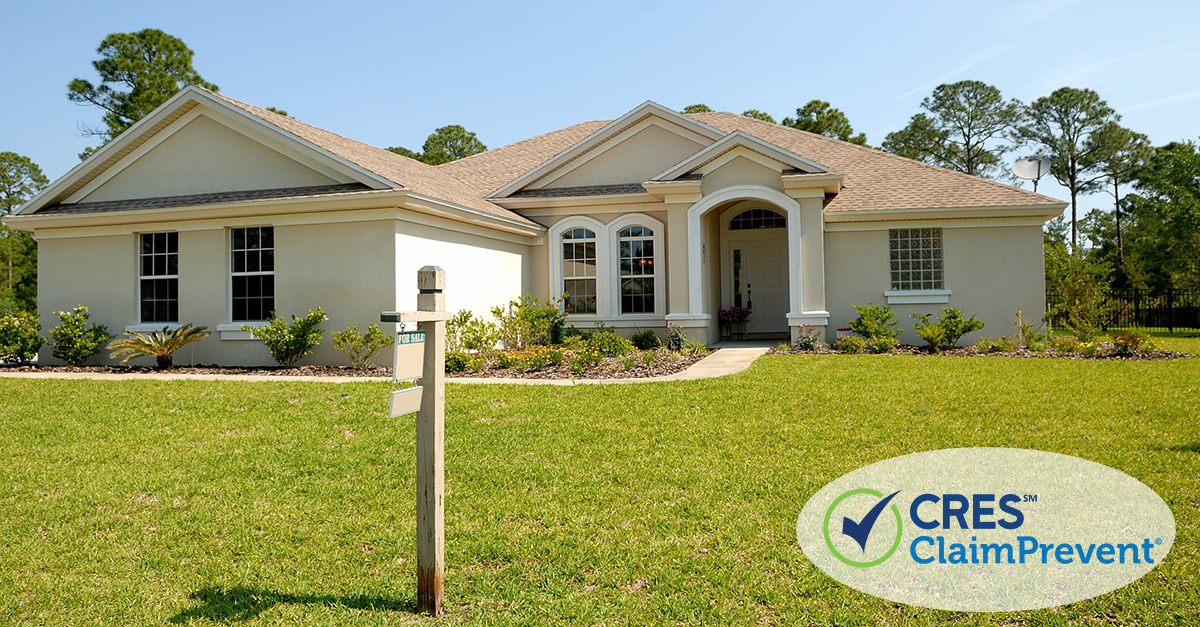 As a real estate agent, it's important to understand what contingent liabilities are and what's covered under your E&O insurance.  A contingent liability is a liability or debt that may or may not occur depending on the outcome of a specific event. Common examples in the real estate industry are lawsuits and pending investigations, as the outcomes of these are uncertain. In other industries, product warranties are a common type of contingent liability.
From a finance perspective, ordinarily, businesses would set aside funds in the balance sheet for contingent liabilities. For example, if one of your clients sues you and your attorney thinks they have a strong case, you would make an allowance for a potential amount of damages on your balance sheet. You don't owe this amount now, but you may in the future.
What Does CRES E&O + ClaimPrevent® Cover?
As a real estate agent, you face a multitude of risks every day. The potential for lawsuits is high, and it's important to make sure you're covered by an extensive and real estate-specific insurance policy.
CRES offers contingent liability coverage endorsement (also called "Open House and Showings coverage") as part of our E&O Insurance Policy. (Depending on your state, it could be included in the base policy or it could be an affordable option.)
This means, when insured with CRES, if a claim is brought against you for damages because of bodily injury (to a visitor of a property) or property damage that is not or would not be covered by a standard general liability coverage form, you will be covered under certain circumstances. These circumstances are when the cause is a negligent act on your behalf, an error, or omission solely in the rendering or failing to render services for which you are insured.
Coverage includes:
Payment of up to $100,000 for damages, where you are found to be liable to pay damages
Payment of claims expenses, up to $100,000, by counsel of our choice, even if the suit is found to be groundless, false or fraudulent.
There are some exclusions to the contingent liability. For example, motor vehicle liability is not covered, war, communicable diseases, and liabilities not arising out of insured services. It's best to check with the CRES team about the full list of exclusions for the contingent liability coverage.
Typically, E&O policies do not cover bodily injury or property damage under any circumstances. But you can customize your CRES E&O insurance to be sure you're covered for contingent liability or Open House and Showings coverage.
Insured Services Defined
CRES will cover contingent liability for real estate agents if you are providing a service within the scope of business insured as part of your policy. In this case, you will be covered for "the listing and sale of" a property. But, what is the difference between listing and selling? Let's look at some potential scenarios…
If you are running an open house at a property you have a listing for, you will be covered. The standard E&O coverages also apply, so interoffice services are also covered, just as long as you're providing a service within the scope of business of your insured services. So, it's okay if you're working at an open house at a home listed by one of your team.
What if you find yourself at an open house for another agent — not one of your team? Yes, you may be potentially considered as being party to the "sale of" the property. But, if the property isn't listed by you or your team, you do not satisfy the "listing" criteria. Therefore, the contingent liability coverage wouldn't apply. Listing requires a listing agreement.
Protecting Yourself Against Contingent Liabilities
If you're unsure whether you're covered for contingent liabilities, speak to your insurer to check your coverage. It doesn't normally come standard with E&O insurance policies, so it's definitely worth paying attention to the fine print.
To protect yourself against potential lawsuits in your real estate business, call the CRES team to discuss your coverage options. With CRES Real Estate Errors & Omissions (E&O) Insurance, you can customize your policy to help protect yourself against contingent liabilities as well as other risks you face as a real estate agent. CRES E&O + ClaimPrevent® policies also include free Legal Advisory Services available 7 days a week. Contact us at 800.880.2747 to find out more.
This blog/website is made available by CRES Insurance Services for educational purposes to give you general information and understanding of legal risks and insurance options, not to provide specific legal advice. This blog/website should not be used as a substitute for competent legal advice from a licensed professional attorney in your state.
Category: Blog, Errors and Omissions Insurance