Lessons Learned from Real Estate Contract Errors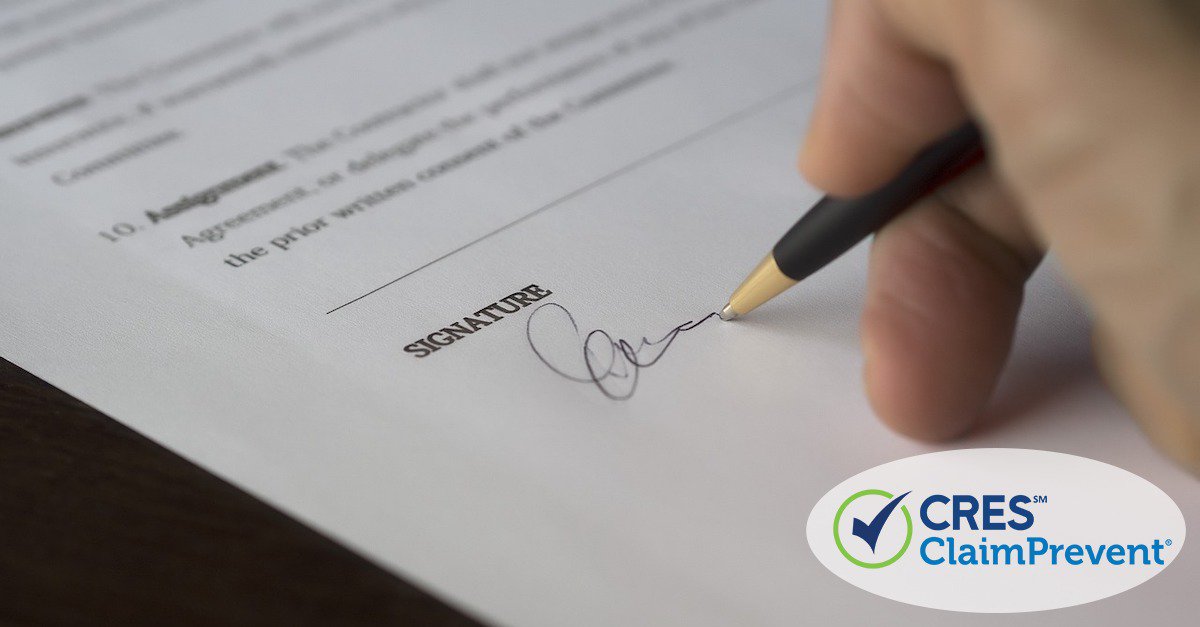 Copy-and-paste can be a huge time saver in your real estate contract, but if you aren't careful, it can cause more than a headache.
Recently a CRES-insured broker called our ClaimPrevent® Hotline with just such a copy-and-paste challenge. She had prepared a real estate contract offer on an investment property that was listed on the MLS. The listing showed a commission split of 2.8% to the buyer's agent. Unfortunately, when the broker prepared the contract, she copied and pasted from a prior contract that said the buyer would pay the buyer's agent the 2.8% commission, not the seller or seller's agent. To compound the issue, she represented the buyer without a listing contract.
Nobody caught the mistake until the day of the original closing date. Here's what happened:
The buyer refused to pay an additional 2.8% commission on top of the purchase price
The seller and seller's agent refused to pay the commission despite the MLS offer
The title company, concerned about their own potential liability, would not agree to facilitate the closing unless our client, the broker, waived any claim she has against the title company.
With all this stacked against her, our client wanted to know how she could represent her buyer client and still recover the buyer's agent commission.
Don't Compound Real Estate Contract Errors
Unfortunately, the agent had no claim against the buyer for her commission, because she had no written contract to enforce.
Even so, she cannot put her interests above that of the buyers. If she caused the buyers to lose out on their investment or forfeit their earnest money, that could cause serious trouble, including a lawsuit or a state licensing complaint.
The best case scenario is for the agent to facilitate the closing, and then try to recoup the commission from the seller or the seller's agent through negotiation, mediation, arbitration or a county court civil action. This is a long shot, since the real estate contract error appears to be the agent's alone.
The agent also had no claim against the title company for commission. Still the title company wanted a waiver saying the agent wouldn't try to recover her commission from the title company.
Lessons Learned from Real Estate Contract Errors
This story doesn't have a happy ending. The agent wasn't able to collect her commission, but she was able to avoid making things worse. There are several things to learn from this story:
Always have a contract. The agent didn't have a contract with the buyer because of past experience with the buyer. That meant she didn't have legal recourse to enforce a contract.
Be careful when creating your contracts. Review contracts carefully for any errors. If you use copy and paste, be extra careful that anything you reuse from another contract is appropriate.
Don't make things worse. Sometimes the best case scenario is to take a loss. Acting against your client's interests can only cause problems.
When in Doubt, Call Your CRES Legal Team
If you have a problem arise about a contract, wouldn't it be nice to know you could call for legal advice? CRES clients can call the CRES ClaimPrevent® Hotline 7 days a week. Clients receive a guaranteed response within 4 hours or next business day, with recommendations confirmed in writing.
When have you had to take a loss rather than make a situation worse?

This blog/website is made available by CRES Insurance Services for educational purposes to give you general information and understanding of legal risks and insurance options, not to provide specific legal advice. This blog/website should not be used as a substitute for competent legal advice from a licensed professional attorney in your state. Claims examples are for illustrative purposes only. Read your policy for a complete description of what is covered and excluded.
Originally Published January 15, 2020
Category: Blog, Contracts and Transactions