Over the last six months, the lawyers here at Carlson Law Group, Inc. have seen an email scam perpetrated with a frightening regularity.  Approximately a dozen clients, insurance companies and insurance brokers have reported to us that funds are being misdirected via wire transfers to bank accounts overseas.  The scam is always perpetrated in the same way.
The fraudsters hack into the email account of someone involved in an open escrow.  We have seen compromises in the email accounts of escrow companies, buyers, sellers and Realtors.  After hacking into an email account, the fraudsters monitor the account undetected waiting for an email that contains wire transfer information.  They then reconfigure the email account directing all legitimate email to the trash folder.  The fraudsters then create a false URL (website address) that is nearly identical to the genuine URL.  They then send emails from the fake URL that look exactly like the genuine account (even down to logos, photos, fonts, etc.) that change the wire instructions to send the funds to banks overseas.  Banks in China and Indonesia have been the most popular hosts for this scheme.
The person whose money is stolen then brings suit against everyone else in the transaction trying to recoup the loss.  Resolving this type of lawsuit is difficult as person or company whose email was hacked is also a victim of the scam.  Also, most errors and omissions insurance policies contain exclusions for claims involving the embezzlement or misappropriation of escrow and other funds.
There are a few ways to combat this scam.
The most important is to protect all computers by implementing a multi-layered security protocol that includes a firewall, spam filtering, regular patch management for all software (Java, Adobe, Microsoft, etc.), routinely changing passwords, eliminate the use of third party cloud applications such as Dropbox and routine back ups.  Another key protection is to follow up emails regarding wire transfers with a telephone call instructing the recipient to not change instructions without an email and verification by a telephone call.  As always, common sense is an important defense.  Most clients do not have overseas bank accounts.  Wire instructions seeking to send money out of the country should be viewed with suspicion.
About the Author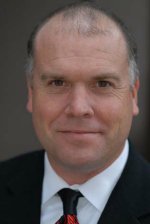 Mark Carlson
Mr. Carlson formed Carlson Law Group, Inc. in January 2005. He currently represents scores of real estate professionals in a wide range of matters. Mr. Carlson also represents individuals in the purchase, sale and lease of residential, commercial and industrial properties. Additionally, he has assisted several clients in building permit, zoning and other land use matters. Mr. Carlson's practice focuses mainly on litigated matters, and he has handled over a dozen jury trials to verdict as well as several court trials. His trial experience includes two trials that each lasted over five weeks. Throughout his career, Mr. Carlson has strived to provide superior legal services while at the same time containing costs for his clients.