Over the years, I have seen an increase in claims and litigation arising out of the way an escrow was handled ranging from wire fraud transfer of funds, false identities of parties to an escrow transaction, unrecorded liens and questionable transactions such as money laundering.
As the escrow officer to a real estate transaction, you and your company are representing all parties to a given transaction including third parties who may have placed payment demands from escrow funds. 
Thieves have been increasingly focusing upon real estate and escrow companies to defraud them and their clients out of money. These scammers are able to compromise emails of a buyer, seller, real estate company or the escrow. Typically, thieves in a wire fraud scheme will send an email to the buyer pretending to be his or her escrow officer, real estate agent, attorney, loan officer or other legitimate person involved in closing the transaction with false wiring instructions for the funding and closing of an escrow and release of the seller's net funds.
ESCROW SAFEGUARDS
Escrow companies and their officers need to be very aware of these scams, provide written disclosures of such to their clients to be dated, signed and returned to them detailing what a wire fraud scam is and how to prevent being a victim. 
The escrow officer and the respective real estate agents for both the buyer and the seller should know who their clients are. Does the buyer and seller appear to be a legitimate buyer or seller for the contracted property? Are the buyer and seller prior clients of the respective real estate brokerage or escrow company or is the representation a first? A prior successful transaction with a client suggests that he or she is honest and legitimate in the transaction you are being the representative.
Prior to close of escrow, the escrow officer should discuss in person, by telephone or a recorded conference Zoom call the money transfer protocol and closing with the buyer, seller and his or her respective real estate agent. 
Do not give any information concerning the real estate transaction by way of email. I recommend that the escrow officer at this time issue some type of a detailed phrase to the buyer and a different one to the seller in the presence of each of their real estate agent and request that it be hand written down and placed in a safe place to verify identities if needed to be done in the future. The escrow officer writes down the detailed phrases in his or her transaction file. The issued phrases are a way to verify the identities of the parties to the transaction later on over the telephone and not by way of email.
The escrow officer should have the names, addresses and telephone numbers of the buyer, seller and their real estate agents written down in the transaction file for future use.
Although emails are a common way to communicate in a real estate transaction, a computer may become compromised by a scammer where an email address or telephone number is changed ever so slightly from the legitimate address or telephone number. 
Do not follow the instructions contained in an email. Rather place a telephone call to the person sending the email instructions and confirm his or her identity as being legitimate. This is where the prior detailed issued code phrases become so important. 
Do not download any attachments or open any links in a sent email before confirming in a telephone call that the information was sent by your representative or client. The downloaded attachment or link may corrupt your computer and allow a scammer access to it.  Never use email as a means to send financial information.
With respect to wire transfers of money, I caution against it. I have handled claims where the buyer or escrow officer wired substantial sums of money to a bank account of a scammer and not of the person who he or she thought it was for because a computer had been compromised. If a wire transfer has to be done, place a telephone or Zoom conference and implement to prior issued coded phrase to verify the person's identity. My preference of sending money is by overnight mail to the recipient with a cashier's check.
In a telephone conversation never give out personal or financial information. Scammers call people pretending to be someone they are not trying to obtain your financial information such as a social security number or a driver's license.
If you are an escrow officer try to not handle an escrow that is not related to a real estate transaction. The only exception is where there is a legitimate sale of a business. 
The most important thing to remember as an escrow officer is to repeatedly check for the accuracy of a request and who is requesting it.
About the Author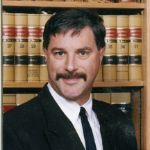 B. Edward McCutchan, Jr.
Sunderland | McCutchan, LLP
© 2021
Mr. McCutchan's practice is primarily civil litigation with an emphasis in defending professionals and businesses in real estate, mortgage brokering, construction, banking and agricultural industries and all phases of dispute resolution through trial and appeal. His area of practice is also agricultural law (viticulture and wineries), trusts and estates, probate, real estate transactions, business law and elder abuse. B. Edward McCutchan, Jr. was admitted to the Bar in 1985 and is admitted and qualified to practice in all California courts and the U.S. District Court, Eastern and Northern Districts of California as well as the United States Tax Court.