RESPA Considerations
In a real estate transaction where a buyer's loan is "federally insured" the Real Estate Settlement Procedures Act (RESPA) changes severely referrals and real estate commission splits under California law. RESPA is a consumer protection law created  to make sure that buyers of residential properties on one to four family units are informed  in writing before close of escrow regarding the amount and type of charges they will pay.  (12 U.S.C. section 2607).
The purpose of RESPA is to prevent abusive settlement charges that plagued this country's real estate industry in the past leading to the "Great Recession" in 2008. Key provisions under RESPA is that "No person shall give and no person shall accept any fee, kickback, or thing of value pursuant to any agreement or understanding, oral or otherwise, that business incident to or a part of a real estate settlement service involving a federally related mortgage loan shall be referred to any person." (12 U.S.C. section 2607(a)).
As such, all loans for a buyer in a residential real estate transaction of one to four family units are subject to RESPA. When a buyer's loan for a residential property of one to four units is a federally insured loan, under RESPA there can be NO REFERRAL FEE to a non-licensee with California's Bureau of Real Estate. Accordingly, the broker who may wish to make a referral fee to a non-licensee for a residential real estate transaction in California should confirm in writing with the buyer and/or his real estate agent that the buyer's loan is not a federally insured loan in order to preclude a RESPA violation from occurring and save the response in the transaction file as well as electronically for future need.
As to real estate commission splits with a party who is a licensee (buyer or seller) in a transaction in a federally insured loan scenario, such is not allowed under RESPA with the exception that the party actually does work required of a Bureau of Real Estate licensee in the transaction.
RESPA prohibits the acceptance or provision of any percentage, portion, or split of any fee or charge pertaining to a settlement service with the exception of services actually provided in a given residential real estate transaction of one to four units. (12 U.S.C.section 2607(b)).
If a real estate licensee received a real estate commission in a federally insured residential loan of one to four units and did not actually do any services as a licensee in the transaction, under RESPA, the payment would be in violation of federal law.
A RESPA violation has criminal and civil repercussions. A criminal conviction is up to one year in jail and a $10,000.00 fine per each party violating a RESPA provision. The consumer (buyer) is entitled to bring a civil action for treble the charge improperly paid in violation of RESPA where the consumer would be entitled to reasonable attorney's fees and costs if he or she prevails.
---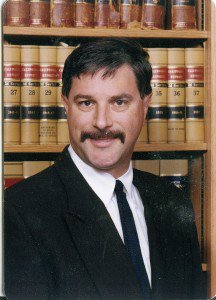 Guest blog written by Edward McCutchan, Jr.
Partner, Sunderland | McCutchan, LLP
Edward McCutchan, Jr  | www.sunmclaw.com
Edward McCutchan, Jr. was admitted to the California State Bar in December 1985 and is qualified to practice law in all California, the United States District Court (Eastern and Northern Districts of California) as well as the United States Tax court.
Mr. McCutchan's practice is primarily civil litigation with an emphasis in defending professionals and businesses in real estate, mortgage brokering, construction, banking and agricultural industries and all phases of dispute resolution through trial and appeal. His area of practice is also agricultural law (viticulture and wineries), trusts and estates, probate, real estate transactions, business law and elder abuse.
Edward McCutchan graduated from the University of California at Davis with a Bachelor of Arts degree in 1982, graduated from Golden Gate University in San Francisco, California with a Juris Doctris degree in 1985 and graduated from McGeorge School of Law with an LL.M, in Business and Taxation in 1986. He is a member of the California State Bar and the Sonoma County Bar Association.
Mr. McCutchan has been a partner with Sunderland | McCutchan, LLP since 2005 and was previously a partner with Ginder, Sunderland & Carlson, LLP from 2003 through 2005. He is a former Deputy District Attorney with the Sonoma County District Attorney's Office and has personally tried many jury and court trials in addition to administrative hearings and binding arbitrations.
Edward McCutchan is an experienced mediator and arbitrator handling private matters as well as California State Bar disputes with the State Bar's fee dispute program between attorney's and their clients. He has served as a court appointed Judge Pro Tem, Arbitrator and Settlement Commissioner in Alameda and Sonoma Counties. He has served as an expert witness in attorney standard of care matters, real estate broker/agent standard of care issues as well as agricultural matters in the viticulture field. Edward McCutchan manages the firm's Santa Rosa, California office.
This blog/website is made available by CRES Insurance Services for educational purposes to give you general information and understanding of legal risks and insurance options, not to provide specific legal advice. This blog/website should not be used as a substitute for competent legal advice from a licensed professional attorney in your state.
Category: Blog, California, Commissions and Referrals, Legal Updates