Tech Watch 2018: What's New in Real Estate Technology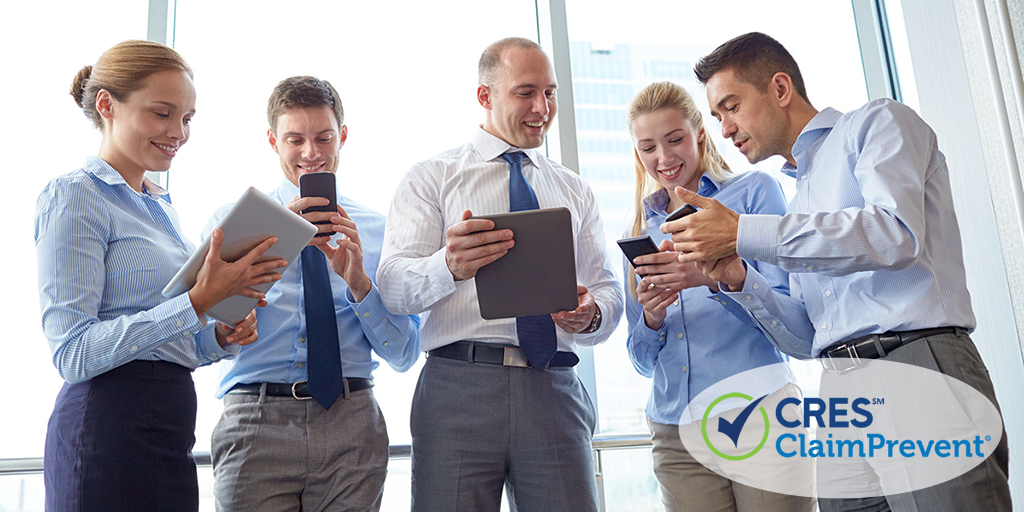 Real estate technology in 2018 will change how the real estate industry operates this year and beyond. From older apps with new upgrades, to blockchain, all the way to artificial intelligence and chatbots — new tools are coming.  As a real estate professional, you'll have new ways to increase productivity and client satisfaction, and even help reduce your risk of a real estate lawsuit. Here's how:
Blockchain and the Real Estate Industry
While blockchain is new and not yet widely understood by most buyers and sellers, that's  about to change in 2018. Blockchain is a form of information turned into currency, known as cryptocurrency. This form of currency can carry large, transparent, easily verified, cost-effective payments that will circumvent not just title insurance, but the need for title searches or transfers. That is because the nature of cryptocurrency is transparent and offers secure online storage. All of this will speed up the buying and selling process.
Because this technology and method of payment is so new, it is important to know all of the steps when completing a transaction that includes cryptocurrency. CNBC recently posted 5 Tips to know.  Prior to or during such a transaction, contact CRES ClaimPrevent® Legal Services to discuss the transaction to help you avoid a real estate lawsuit.
Apps: Efficiency and Documentation
Apps that help increase your productivity are great, but apps that increase your productivity and documentation are even better. When you're racing through your day, it's  imperative that important documents and information don't fall through the cracks, leaving you open to a real estate lawsuit. Our favorite transaction management apps for real estate agents in 2018 include:
DocuSign – DocuSign has added a paperless office function (called a "transaction room") to allow you to keep all documents for a transaction in one online location. The software and app are endorsed by the National Association of Realtors®. It easily connects with tools you're already using.  For example, you can send out a listing agreement directly from zipForm® Plus.
Dotloop – This real estate transaction management system puts form creation, esign, compliance, and storage in one online location.  You can edit and share documents with clients wherever you are.
Interactive, 360° or 3D Virtual Tours
New technology allows potential buyers to view interactive virtual tours of properties.  The buyer can use the mouse to view each room from every angle. These high-tech tours go far beyond traditional video, and allow buyers to go where they want to go, and see exactly what they want to see in potential properties. Matterport is one new option for a true 3D virtual tour.
Artificial Intelligence (AI)
AI can be used to target potential customers based on their online activity. This means specific ads can be sent to clients when they change their social networking status, add information about themselves online, or enter certain keywords in a search bar on a page.
This is really just the beginning in terms of real estate applications.
Chatbots: Now you can add a chatbot to your website or virtual tour.  Chatbots can answer simple questions about a property. . When the chatbot can't answer a question, it transfers the client to a real estate professional. By utilizing a chatbot to handle inquiries, you can answer potential client questions 24/7, deliver information faster and more efficiently, and potentially reduce mistakes.
Be prepared to both utilize new technology and protect yourself and your clients from the risks that come with it.  CRES E&O + ClaimPrevent® insurance helps protect individual real estate professionals and real estate companies.  We'll help you actually prevent claims with included Legal Advisory Services.
Add CRES expanded Cyber Liability Coverage for more protection for your business against the average $3 million cyber liability claim.  and To learn more about CRES superior coverage for real estate professionals, contact us at 800 880 2747.
What are the coolest tech tools you're currently using?  Tell us in the comments below.
This blog/website is made available by CRES Insurance Services for educational purposes to give you general information and understanding of legal risks and insurance options, not to provide specific legal advice. This blog/website should not be used as a substitute for competent legal advice from a licensed professional attorney in your state. Claims examples are for illustrative purposes only. Read your policy for a complete description of what is covered and excluded.
Originally Published March 28, 2018
Category: Blog, Technology & Tools, Real Estate Success Center