The "Procuring Cause" Claim

Over the years of handling risk management matters, I invariably see disputes where the real estate agent who was not the listing or selling agent on a closed transaction makes a claim for real estate commissions claiming that he or she was the "procuring cause" for the transaction closing.
The typical "procuring cause" claim arises when a listing agreement expires, the seller decides to not re-list the property with the prior listing agent, and then a person who looked at the listed property when listed by the first listing agent makes an offer to buy when the parcel is listed by the second listing agent within six (6) months or so after the initial listing agreement ended. The initial listing agent then makes a claim for real estate commissions as "procuring cause" under his or her expired listing agreement which has a provision stating that if any person who viewed the property when it was for sale under his listing agreement makes an offer to purchase it within a certain period of his or her termination as the listing agent, a real estate commission is due. Such is an acceptable practice in California's real estate industry.
However, what does the current listing agent do when he or she has a listing, a potential buyer looks at the property with a potential selling agent, but the potential buyer then returns without the potential selling agent and wants the listing agent to write up an offer as the dual agent?
The first thing the listing agent should inquire about and confirm in writing is whether there is a dated and signed buyer broker exclusive representation contract. If there is none, then there is less chance that the potential selling agent has a valid basis for a real estate commission claim as "procuring cause" for any later sale of the parcel to the particular buyer. On the flipside, if one foresees spending a significant amount of time with a potential buyer, he or she should attempt to have the buyer sign a buyer broker exclusive. Should the buyer refuse to do so, then the refusal could be deemed a reluctance by the buyer to commit to a particular real estate brokerage in the endeavor to purchase a property.
In order to help prevent a claim against the listing agent by a former potential selling agent for real estate commissions upon the successful close of a transaction, the listing agent should call and e-mail the former potential selling agent about the prospective buyer wanting to write an offer on the listed property. Ask whether there is an existing client relationship in place, and if not, whether the brokerage that was assisting the prospective buyer would be making a claim for real estate commissions as "procuring cause" if the sale closes.
By confirming any claim for real estate commissions or no claim for real estate commissions in writing with the broker of record for the buyer, who is representing that he or she has no real estate agent for the desired offer for the listed parcel, you can prevent misunderstandings and surprises. This type of proactive action is generally appreciated by all in the real estate industry. By contacting the buyer's former real estate brokerage about the buyer wanting to make an offer on the listed property without its selling agent being involved, the listing agent can make written confirmation as to whether or not a claim for real estate commissions will be requested as "procuring cause" before close of escrow, which eliminates surprise and bad feelings.
The recommended practice for a listing agent, who has concerns that a buyer who has a real estate agent now wants to write an offer without the agent, is to engage in good faith and ethical business practices to prevent being embroiled in a dispute over the "procuring cause" of a real estate sale. Litigation is expensive both in terms of time and money incurred with respect to attorneys' time and can be avoided if the above guidelines are part of a brokerage's business practice.
About the Author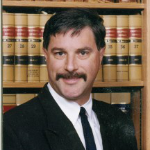 B. Edward McCutchan, Jr.
Mr. McCutchan's practice is primarily civil litigation with an emphasis in defending professionals and businesses in real estate, mortgage brokering, construction, banking and agricultural industries and all phases of dispute resolution through trial and appeal. His area of practice is also agricultural law (viticulture and wineries), trusts and estates, probate, real estate transactions, business law and elder abuse. B. Edward McCutchan, Jr. was admitted to the Bar in 1985 and is admitted and qualified to practice in all California courts and the U.S. District Court, Eastern and Northern Districts of California as well as the United States Tax Court.
This blog/website is made available by CRES Insurance Services for educational purposes to give you general information and understanding of legal risks and insurance options, not to provide specific legal advice. This blog/website should not be used as a substitute for competent legal advice from a licensed professional attorney in your state. Claims examples are for illustrative purposes only. Read your policy for a complete description of what is covered and excluded.
Originally Published January 7, 2016
Category: Blog, California, Commissions and Referrals, Legal Updates