How Real Estate Professionals Should Respond to a Deposition Subpoena to Produce Documents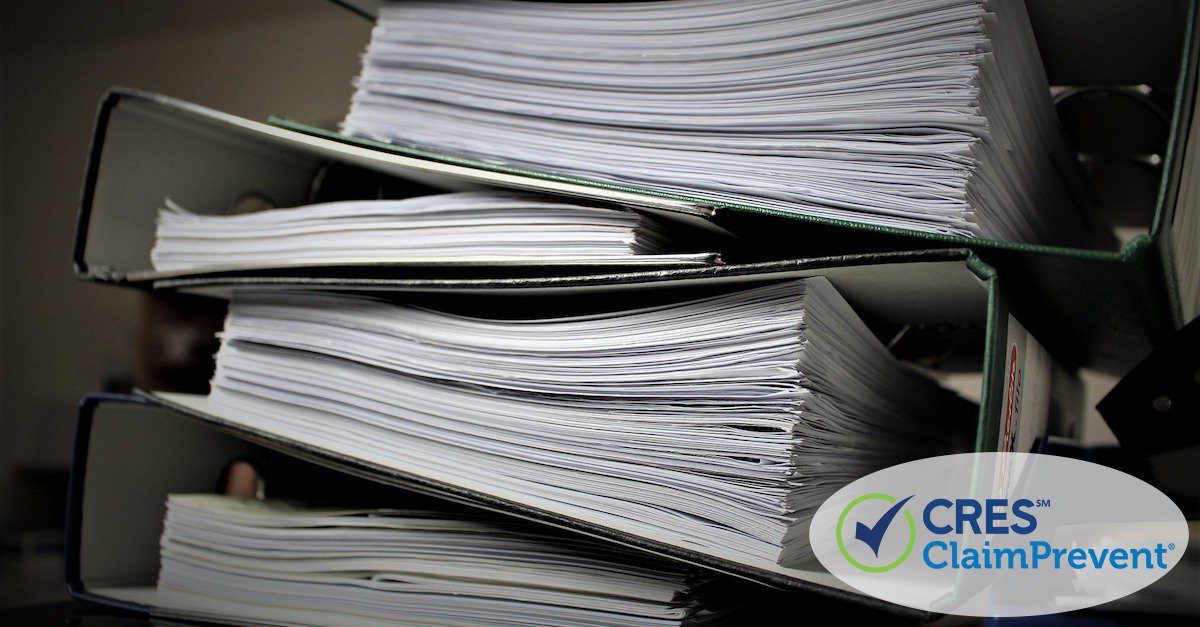 When there is a legal dispute between the buyer and seller, you may be served with a deposition subpoena to produce documents. This is a normal procedure for obtaining documents when you or your real estate brokerage are not named in the lawsuit at the time of the service of the deposition subpoena.
A subpoena for production of evidence is a summons normally issued by an attorney representing a party in a litigation. The subpoena orders you to do one of two things:
Appear in person before the court and produce documents or other tangible evidence for use at a hearing or trial; or
Produce the desired documents to the attorney issuing the subpoena by a certain date, usually by mail.
The first thing you should do when served with a deposition subpoena for document production is to contact your attorney. Send the deposition subpoena to your attorney for review via email and save a copy of the transmission electronically (or contact CRES ClaimPrevent® Legal Services if you have CRES E&O).
Assuming you have real estate Errors and Omissions insurance, the deposition subpoena for document production should also be sent to your account executive with the insurance carrier by email. Save an electronic copy of this transmission as well.
Related Content: Do you have subpoena coverage? Who needs it and why.
The first thing to look for in the served deposition subpoena: was a "Notice to Consumer" also served upon your client (since the request is asking for personal records involving your client). Your deposition subpoena should be accompanied by a copy of the proof of service of that Notice to Consumer.If there is no provided Notice to Consumer served, you should serve a written (not electronic) objection upon the attorney who issued it. Work with your attorney for this, or contact CRES ClaimPrevent® Legal Advisory Services. (Save a copy of the objection for future need.)
The objection needs to be served on the party's attorney (that issued the subpoena) by mail, at least three calendar days before the date the document production is due (based on California law — your attorney or your CRES ClaimPrevent® local attorney can verify the requirements in your state).
If the objection to a deposition subpoena in California is not served until exactly three calendar days before the response date, the objection must be personally served on the party who gave notice of the deposition.
Other common grounds for serving an objection to a deposition subpoena in California are:
The deposition subpoena does not allow sufficient time for the production of the business records;
The deposition subpoena does not describe with reasonable particularity the matters on which examination is requested;
The deposition subpoena does not specifically describe the business records to be produced;
The deposition subpoena seeks privileged information.
If the deposition subpoena is not subject to an objection, the real estate agent or broker who is served with the subpoena should begin gathering the documents sought. Preferably, this should be done with the assistance of your attorney, and two copies should be made of what is being produced. The first is for the attorney seeking the documents, and the second is to document what is being sent by mail. Certified mail return receipt should be requested or overnight mail with a tracking number, to ensure the produced documents are received. It is suggested a cover letter be included with the documents along with an invoice for $35 plus 25 cents per page copied as per the Government Code. If a copy service is utilized by the attorney that issued the subpoena, you simply let the service copy the documents being produced and you get them back (check with your attorney on the timing of this before proceeding).
A word of caution: whenever you're served with a deposition subpoena for your file concerning a litigated action, and you are not a party to the lawsuit, the documents produced may result in an attorney for one of the litigants naming you as a defendant or cross-defendant. As such, it's important to have an attorney represent you in responding to any subpoena.
A CRES Real Estate E&O + ClaimPrevent® policy includes on-call Legal Advisory Services 7 days a week. We can answer questions or address potential problems to help you avoid an E&O claim or lawsuit.
Learn more about what CRES E&O + ClaimPrevent® can do for you or give us a call at 800-880-2747.
Author contribution by:
Edward McCutchan
Sunderland | McCutchan, LLP
412 Aviation Boulevard, Ste. D
Santa Rosa, CA 95403
This blog/website is made available by CRES Insurance Services for educational purposes to give you general information and understanding of legal risks and insurance options, not to provide specific legal advice. This blog/website should not be used as a substitute for competent legal advice from a licensed professional attorney in your state. Claims examples are for illustrative purposes only. Read your policy for a complete description of what is covered and excluded.
Originally Published May 20, 2020
Category: Legal Updates