Introduction – The Law and Primary Issue
California Civil Code section 2079 sets forth the statutory duty of a real estate licensee in the State of California to both the buyer and the seller of a real estate transaction, whether it involves residential, commercial or vacant land.
Civil Code section 2079.2 sets forth that the standard of care as a California licensee "is the degree of care that a reasonably prudent real estate licensee would exercise and is measured by the degree of knowledge through education, experience and examination required to obtain a license," under California's Business Professions Code.
One of the biggest issues (with respect to real estate duties in California) is a licensee's duty to inspect real property before close of escrow for his or her client in order to address potential "red flags" that might be a problem down the road.
Residential Property Inspection and Disclosure Duties
Under California Civil Code section 20179.3, a licensee's inspection responsibilities are limited to a reasonable and diligent visual inspection of only normally-accessible areas. There is no duty to inspect off the site of the parcel under contract or to look at public records or permits concerning the title or use of the property.
A real estate agent should advise the person he or she is representing to retain an expert in certain areas including, but not limited to, a home inspector, contractor, engineer, surveyor and the like. (Wilson v. Century-21 Great Western Realty (1993) 15 Cal. App. 4th 298).
In connection with the seller's Transfer Disclosure Statement (TDS), the real estate agent has a mandatory duty to reveal all material facts in connection with making a visual inspection (preferably in writing and signed and dated by his or her client showing receipt).
The duty to inspect and disclose does not include unknown latent problems. A competent, diligent visual inspection does not extend to complicated structures or the duty to recognize structural defects or deficiencies (beyond the most obvious), nor to ascertain defects that normally would require knowledge and expertise outside of a real estate agent's expertise. This is why a prudent real estate licensee should always recommend, in writing before close of escrow, that his or her client consult with an appropriate expert before close of escrow.
Key in any real estate transaction is the duty of each real estate agent to disclose material information to his or her client affecting desirability and price paid for a property in writing. Since many physical conditions of real property may be beyond the agent's knowledge, the delivery of reports by third party experts should satisfy a real estate agent's disclosure obligations. (Vaill v. Edmonds (1991) 4 Cal. App. 4th 247).
Commercial Property Inspection and Disclosure Duties
There is no duty in California of a real estate licensee to inspect non-residential property because the potential problems are beyond the licensee's expertise. The law presumes greater sophistication and bargaining power with commercial as opposed to residential buyers.
If the transaction involved commercial, industrial, agricultural or multiple residential properties such as an apartment complex, there is no inspection and disclosure duty because the law presumes such deals involve sufficient money to justify expert advice. Most purchasers of such property have a sufficient level of sophistication that they do not rely on a licensee for inspection and discovery of defects. Rather, third party experts are retained as a rule before close of escrow. (Smith v. Rikard (1988) 205 Cal. App. 3d 1354).
As a risk management practice in a commercial transaction, it is recommended that the real estate agent advise his or her client in writing of the need to retain suitable experts to inspect the parcel before close of escrow. The agent should have the client date and sign the written advisory.
Always Recommend in Writing that Experts be Consulted
From a risk management perspective, a licensed California real estate agent or broker in any transaction, be it residential or commercial, should always advise his or her client in writing to have a third party expert such as a contractor, surveyor, engineer, pest inspector, home inspector and the like inspect the parcel under contract to ascertain its structural integrity. Many potential problems could be hidden or not readily visible through a diligent and reasonable visual inspection.  Such an advisory should be dated and signed by the client and kept in the transaction file.
About the Author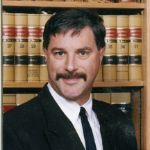 B. Edward McCutchan, Jr.
Sunderland | McCutchan, LLP
Mr. McCutchan's practice is primarily civil litigation with an emphasis in defending professionals and businesses in real estate, mortgage brokering, construction, banking and agricultural industries and all phases of dispute resolution through trial and appeal. His area of practice is also agricultural law (viticulture and wineries), trusts and estates, probate, real estate transactions, business law and elder abuse. B. Edward McCutchan, Jr. was admitted to the Bar in 1985 and is admitted and qualified to practice in all California courts and the U.S. District Court, Eastern and Northern Districts of California as well as the United States Tax Court.